This shop has been compensated by Collective Bias, Inc. and its advertiser. All opinions are mine alone. #SummerSoStrong #CollectiveBias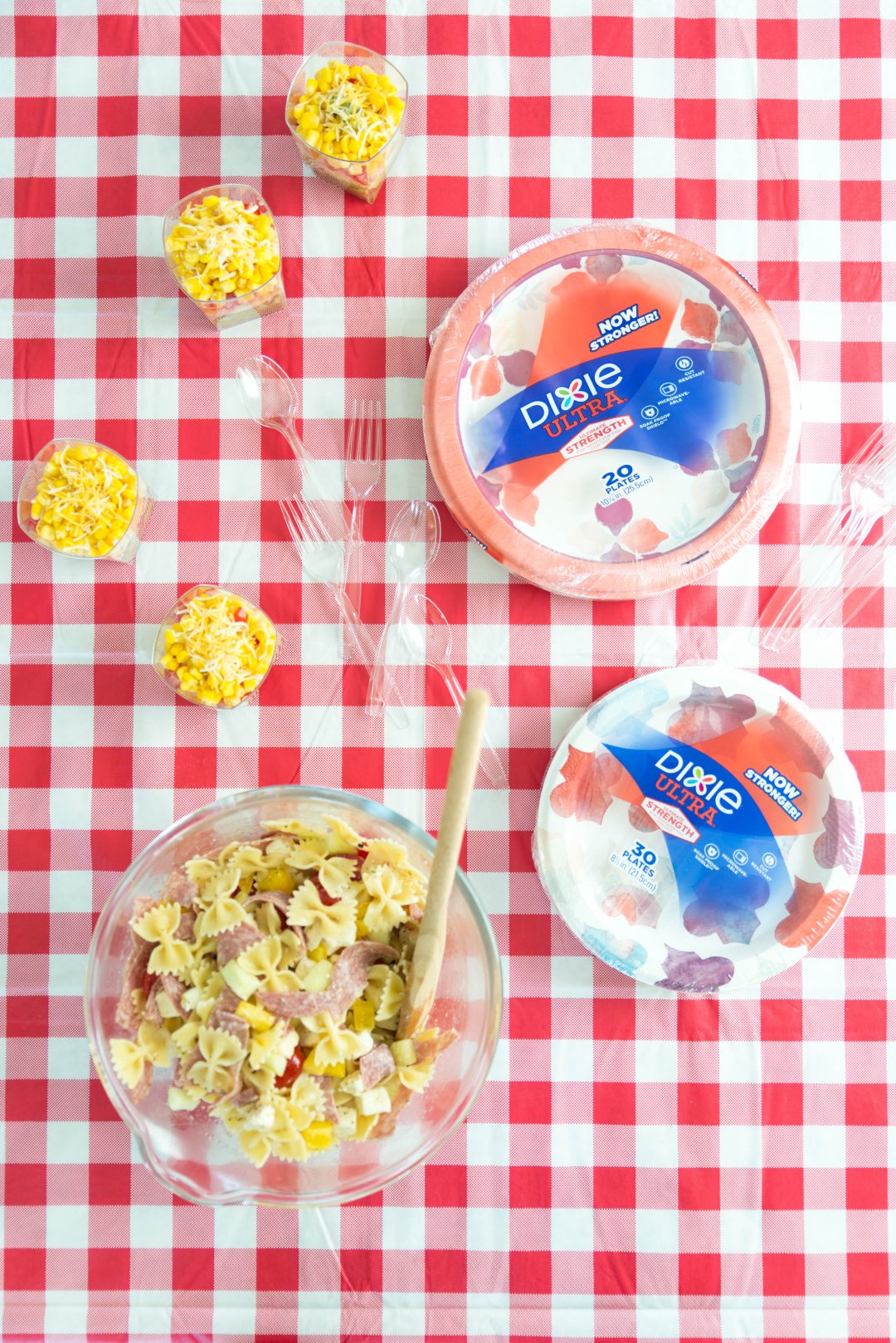 We are no newbs when it comes to bbq-ing. As soon as it turns warm enough, our grill is in regular use, sometimes daily. Although to be honest, we live in California so it's usually grilling weather all year round 😉 But especially during the summer, most days are bbq days for us. We love it so much that back before we had our own grill we once snuck into a good friend's backyard while he was on vacation and used his hehe. Hubby often comments about our grill being our single best purchase. So today in the spirit of a fast-approaching summer, I gathered my all-time favorite backyard bbq recipes to share with you. These are my personal favorites and go-to crowd pleasers. You can find all the recipes here:
Korean Short Ribs
Hawaiian Chicken
Hearty Italian Pasta Salad
Meaty Layered Dip
And for a refreshing summer dessert: Mini Strawberry Bundt Cakes with Lemon Whipped Cream. These ones are a new recipe and an instant favorite. The lemon whipped cream with the light, fresh strawberry cake: perfect. Find the recipe at the bottom of this post.
This was perhaps one of my favorite posts I've prepped in a while, and I'll tell you the reason: easy clean up! Being a food blogger and having a habit of unnecessarily dirtying an immeasurable amount of dishes, I have been learning to simplify by using paper plates wherever possible. And wow did it make a difference for this post. My cleanup time was cut in half because I used these Dixie Ultra® plates wherever I could. These plates are meant for heavy, messy meals, so they're perfect for summer bbq's. A fun note: the 10 inch plates can hold up to 2 lbs of food! Take a look at my gif, see me one-handing all of that deliciousness! These things also have a Soak Proof Shield™ meaning your plate won't get soggy with BBQ sauce (you know what I'm talking about!) and Flex-Proof Technology™ so you know it's strong. You just can't beat these, Dixie knows what the people want in a paper plate.
Target was my best friend for this post, you can find these Dixie Ultra plates there, or click on my shoppable image above to shop online. BUT don't forget to use this coupon on Cartwheel to save 10% from 5/25-6/8: SAVE 10%. So there you go, I introduced you to some bomb paper plates and showed you how to save money on them too. You're welcome! What awesome summer BBQ recipes would you use these Ultra plates for??
Mini Strawberry Bundt Cakes with Lemon Whipped Cream
Makes 12 mini cakes or 1 large bundt cake
Cakes:
1 cup unsalted butter, softened
2 cups granulated sugar
3 eggs
1 Tbsp lemon juice
zest of 1 lemon
2-1/2 cups flour, divided
1/2 tsp baking soda
1/2 tsp salt
8 oz. plain Greek yogurt
1 pint strawberries, divided
Icing: (opt.)
1 Tbsp lemon juice
1/2 cup powdered sugar
Lemon Whipped Cream:
2 cups heavy cream
1/4 cup granulated sugar
zest of 2 lemons
4 tsp lemon juice
Directions:
Preheat oven to 325F. Grease and flour your pan.
For the cakes:
Combine 2-1/4 cups of flour, the baking soda, and salt in a medium bowl. Set aside.
In a separate large mixing bowl, beat together the butter and sugar until light and fluffy. Add the eggs one at a time, beating to combine after each. Mix in the lemon juice and zest. Pour half your flour mixture in and mix gently until mostly combined. Then add half the yogurt and stir to combine. Repeat with the flour and then the yogurt until incorporated.
Gently toss the strawberries in the remaining 1/4 cup of flour and then gently mix into the batter. Fill your pan just slightly over halfway and bake for about 25 minutes until golden brown around the edges (don't underbake). Let cool for about 10 minutes in the pan before removing to a cooling rack. Allow the cakes to cool completely.
For the icing:
Stir together the lemon juice and powdered sugar. Pour into the corner of a sandwich bag, snip a small piece from the corner of the bag, and drizzle over your cooled cakes.
For the whipped cream:
In a clean mixing bowl with clean beaters, pour in the heavy cream and begin beating. Once it starts to thicken, gradually add the sugar. While still beating, add the lemon juice and zest. Beat until stiff peaks. Pipe the cream into the middle of your bundt cakes, garnish with a strawberry halve, and enjoy!

Cake recipe adapted from HERE. Whipped cream adapted from HERE.