This shop has been compensated by Collective Bias, Inc. and its advertiser, Mars Wrigley Confectionery US, LLC. All opinions are mine alone. #SweetnessToShare #CollectiveBias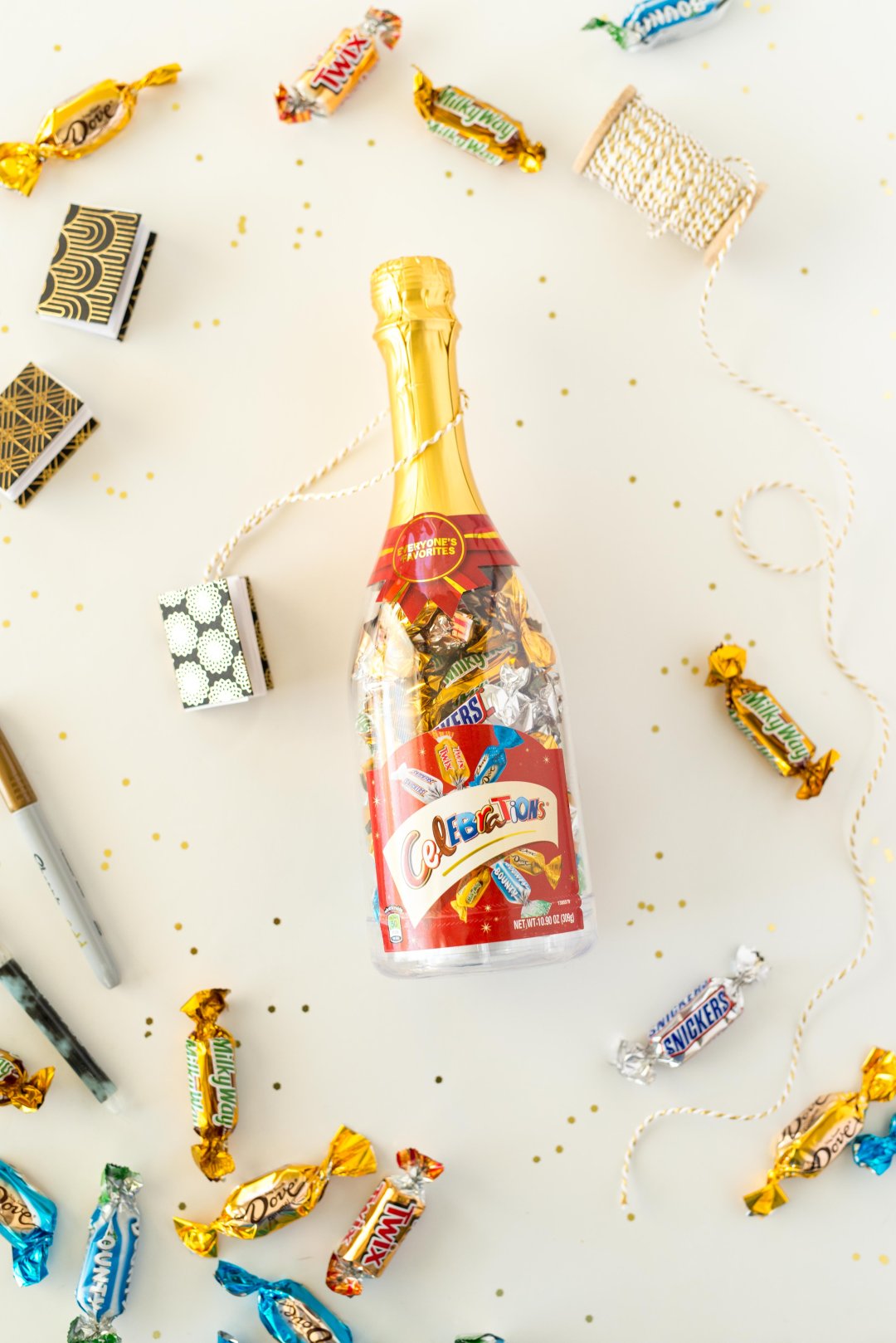 Hover over this photo to shop these special treats at walmart.com!
I love the multiple meanings that hide within the word "celebration." During this season we celebrate the holidays, what they stand for, the chance to gather with family, etc. We throw festive celebrations like ugly sweater parties and cookie exchanges to mark the special time of year. And during this giving season we put extra special focus on celebrating other people. I have so many people on my list who deserve to be celebrated, and the hardest part about the holiday season is figuring out how best to do that. So today I'm sharing one very simple, cute way that we can celebrate these special people in our lives.
The first person I'm celebrating is my hubby. This isn't his first deployment, but it's the first that runs over all the big holidays. That boy is passionate in his work, he's a patient teacher to his subordinates, and lately he's been my biggest supporter. Recently when I applied to a school program, I had to do an online interview. Part of it was written, and one of the questions was, "How would your best friend describe you?" I immediately started bawling thinking of some of the nice things my hubby has said to build me up. In a nutshell, I wrote that he says I can do whatever I put my mind to, and that I am kind and giving. Someone who keeps your insecurities at bay is definitely someone who deserves to be celebrated. The holidays are the best because they not only bring families together physically, but the traditions of the season also knits their hearts together as they join forces to celebrate their friends, neighbors, and people in need. If all this talk has triggered you to think of a person in your life deserving of a celebration, then here is my simple idea for how you can treat them to the sweetest gifts this holiday season:
These MARS® Celebrations® bottles full of yummy treats would be a fun and welcome surprise for anyone, but if you add some heartfelt words of appreciation it becomes unforgettable. So what I did is I DIY'ed these cute little mini notebooks, spelled out the word "celebration" with one letter on each page, and for each letter described a reason why I think my hubby should be celebrated. Wanna know what I wrote? I couldn't show each page in my photos, so I'll indulge you here, and maybe it will give you some ideas for your own:
You deserve to be celebrated because…

you have the Cutest patootie in all the land.
you give Exceptional bear hugs
you give our fur babes all the Love
you are Extra good at making me smile.
you have Biceps like Popeye
you let me eat Ramen at midnight
you are the best companion to have on Adventures
you never fail to Text me when you land and take off. Or when you're on the toilet.
you have Impeccable eyebrows. Those definitely deserve to be celebrated.
you are so patient and forgiving when I'm being Obnoxious.
you are the Nicest husband I could ask for.
Some of these are jokes and and some are heartfelt thoughts, but I love this little notebook because it gives you 11 chances to make your recipient smile. And of course, the sweet treats seal the deal.
You can find these Celebrations® bottles at Walmart in the seasonal section or online, and you can find my mini notebook tutorial below. So who would you treat to this sweet gift? Who in your life deserves to be celebrated? Everything you need for this easy gift can be found at Walmart, just hover over and click the photo above to purchase your Celebrations®.
What You Need:
pencil
white paper
decorative card stock
ruler
scissors
string or ribbon
glue gun
glue stick
marker or pen for writing
1. Gather your materials and heat up your glue gun.
2. Line your paper into four 2″ x 11″ inch strips.
3. Cut out the strips.
4. Fold each strip in half. Repeat twice more.
5. The strips should look like this.
6. Unfold the strips of paper and make sure the folds zig zag like an accordion, refolding where necessary.
7. On the side that shows pencil marks, use your glue stick to glue together the folds.
8. You should now have a mini booklet like this. Repeat for all the strips of paper.
9. Now to glue together the end pages of each booklet to create one large booklet.
10. Cut out a 2″ x 4.25″ piece of card stock. Draw lines like so (zoom in to see photo) 1/2″ from each edge and two lines in the middle at the 2″ and 2.25″ marks.
11. Score gently along each line.
12. Fold along the scores and your book cover should look like this.
13. Using the glue gun, spread glue along the inside center of the book cover and attach your booklet pages like so.
14. Fold over the edges and hot glue those as well.
15. Your mini notebook!
16. Cut a string about 15 inches long and form a loop with it.
17. Use the glue gun to attach the string ends to the back of the notebook.
18. Write your celebratory messages inside, then hang your creation around a MARS
®
Celebrations
®
bottle and gift it to your special person.